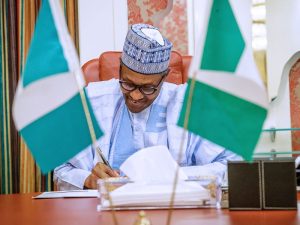 President Muhammadu Buhari has appointed Maj. Gen. Samuel Adebayo, as Nigeria's new Chief of Defence Intelligence (CDI).
Naija News reports that Adebayo, who assumed office on Friday, took over from leadership of the Defence Intelligence Agency (DIA) from Air Vice-Marshal Muhammed Usman.
It was gathered that the Deputy CDI, Maj. Gen. Gbolahan Oyefesobi acted for a few days after Usman's retirement but handed over to Adebayo at the agency's headquarters in Abuja on Friday.
Speaking after assuming office, Adebayo thanked President Buhari, promising to build on the achievements of his predecessor.
Adebayo noted that the DIA has raised the bar in intelligence statecraft, adding that "I know that the task ahead is daunting but clearly achievable. I solicit your support and suggestions as we settle down to work."
He noted that leadership is about teamwork, transparency and integrity.
General Adebayo assured that the DIA had the capacity to deliver its mandate to the Nigerian people.
Adebayo disclosed that he would improve on technical capacity and prioritise core intelligence in support of ongoing operations and other engagements.
He pledged human capacity development with focus on staff specialisation for optimal output and enhancement of the agency's specialist centres.
Adebayo was a former director at the DIA and was Chief of Military Intelligence (CMI) at the Nigerian Army before his appointment.