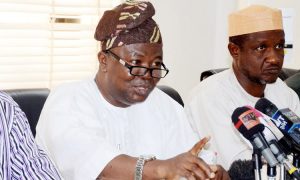 The national president of the Academic Staff Union of Universities, ASUU, Professor Biodun Ogunyemi, has condemned moves by Federal Government of Nigeria to reopen institutions while the country is still battling the global pandemic.
The leader of the university association, while speaking with newsmen on the early hour of Monday, June 29 in Ogun State, kicked against the reopening of schools at this moment, noting that the move is 'suicidal'.
According to the News Agency of Nigeria, Ogunyemi argued that the government must not declare open institutions except it is ready to make available all necessary resources. The union noted that for schools to reopen, it must meet proposed conditions by the Federal Ministry of Education.
Ogunyemi urged the federal government to create an ideal environment, meet the speculations of Nigeria Centre for Disease Control, NCDC before schools should be allowed to again commence their activities across the country.
"The Federal Government must lead and show the ways by meeting the conditions for reopening of schools before any school can be allowed to open because COVID-19 pandemic is a health challenge," said Ogunyemi.
"When it comes to public health, it is something that should not be left in the hands of individuals but the Federal Government must take the lead," he added.