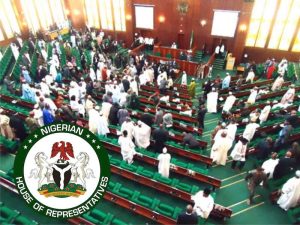 The House of Representatives in Nigeria has started considering a bill which will make it illegal for anyone without the minimum qualification of a bachelor's degree or higher national diploma (HND) in journalism or other related courses to practice journalism in the country.
The bill is being sponsored by Francis Agbo, the member representing Ado/Ogbadigbo/Okpokwu federal constituency.
Naija News understands the bill tagged the Nigerian Press Council Amendment Bill 2019 has already passed first reading on the floor of the house.
The bill which is already scheduled for second reading, seeks to amend some sections of the Nigerian Press Council Act Cap N128 LFN 2004.
Part of what the bill is seeking is to make it compulsory for anyone seeking to practice journalism in Nigeria to have "a first degree, Higher National Diploma certificate or its equivalence in Journalism, Media Art or Communication from any higher institution in Nigeria or elsewhere".
The bill makes provision for those without the basic requirements listed above to "within five years obtain a postgraduate certificate in Journalism, Media Art, Communication or related field from any higher institution in Nigeria or elsewhere".
According to the media aide to the lawmaker sponsoring the bill, Andrew Agbese the aim of the bill is to redefine the journalism practice and curtail quackery in the profession.
"The Bill has aroused interest in the media, given the extent quacks and fakes have infiltrated the industry, bringing the image of journalists to an all-time low in Nigeria," he said in a statement.
"The Bill, when passed into law will address these challenges by redefining and refining the media industry and by extension, strengthening democracy and hence the need to define who a journalist is, what qualification qualifies him to be a journalist, and stipulates punishment for defaulters and quakes."
Meanwhile, the spokesperson of the Nigeria Army, Brigadier General Mohammed Yerima, has denied the report that the military is benefiting from terrorism.
Islamic cleric, Sheikh Ahmad Gumi, on Thursday alleged that military authorities are not interested in end terrorism in the country because they making billions of naira from it.
Gumi who has been having meetings with bandits in an attempt to negotiate with them, stated this while speaking on Arise TV.
Yerima during an interview said the cleric is entitled to his opinions.
"We are just coming into this regime, when I say we, I mean the presence of the Chief of Army Staff, how many days has he spent as Chief of Army Staff? We are giving our best to the country."
"We don't know what Gumi is saying that we are benefiting from the insurgency, all we know is to protect the lives of Nigerians, our duty is to protect the territorial integrity of Nigeria."
"I don't know who the beneficiaries are, what is our benefit? Is he talking about buying equipment? Is it going to our pocket? It's not, the equipment is to fight insurgency. I think it's unfortunate, we respect him, we don't want in any way to be confrontational with him."