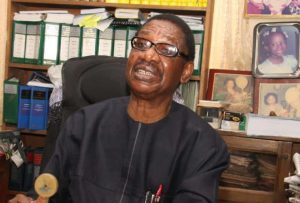 The Chairman, Pres­idential Advisory Committee Against Corruption (PACAC), Prof. Itse Sagay, has said his committee is relevant to the fight against corruption.
Sagay said on Sunday while reacting to the reported recommendation of the disbandment of PACAC by the Minister of Justice, Abubakar Malami (SAN) to President Muhammadu Bu­hari.
He said contrary to what the minister or others may think, PACAC is still very relevant in the fight against corrup­tion in the country.
According to Sagay, PACAC was established to promote the reform agenda of the gov­ernment on the anti-corrup­tion effort.
He added the committee is to advise the present administration in the prosecution of the war against corruption and the implementation of required reforms in Nigeria's criminal justice system.
Sagay, however, listed some of the achievements of the com­mittee since its establishment in August 2015.
He said, "All I will say is that whatever he may think, the committee is still very relevant to the fight against corruption in this country.
"We provide the coordi­nation of the two agencies (EFCC and ICPC), we train and help to mobilise and en­courage the anti-corruption agencies to be more effective. We have a lot of ideas that we have been pumping into the system which they are using.
"We have written books on prosecution, sentencing and various other issues which are relevant to their work, apart from actually training them. This is a continuous process.
"This issue of recoveries, which is a major part of the work of the two agencies is hugely a result of the various trainings that we gave to the agencies in 2017 on recovery of assets when we found that sentencing the victims in pol­itics was difficult.
"We thought let us re­cover what they looted and we invited experts from all over the world in that field to provide trainings, including United Nations personnel. So, we are still very vital to the fight against corruption in this country".