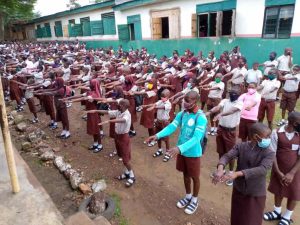 Niger State government has approved January 24, 2021, for the resumption of all schools in the state.
Announcing the development at Minna, the state capital on Friday, the State Ministry of Education said second term activities will commence on Sunday, 24 for boarding schools and Monday, January 25 for students in day school.
The state Commissioner for Education, Hajia Hannatu Jibrin Salihu, who made the announcement, noted that the decision was taken after due consultation with different stakeholders.
According to Salihu, the board have been monitoring the national and local trend of the novel virus so as to guarantee the safety of school managers, teachers and learners.
She said: "However, with the report of the second wave and spike of the global pandemic, the Ministry felt obligated to approach the challenge of the pandemic with caution.
"Thus, we stayed action on the resumption of schools, as initially scheduled, to watch the situation and align with the direction expected to be provided by National Centre for Disease Control (NCDC) and other relevant health authorities.
"While we are in tune with the January 18, 2021 date set for resumption of schools across the country, we chose to be on the side of caution. Therefore, after consultation with different stakeholders, all Basic and Secondary Schools are to resume for classes on Sunday, January 24, 2021, for students in boarding schools and Monday, January 25, 2021, for students in day schools.
"The one week is to enable all schools to put the necessary protective measures in place while parents, students and pupils make provisions to comply with COVID 19 protocols in full," the Commissioner said.
Salihu said, on resumption, principals, teachers and students must ensure full compliance with the following standard COVID 19 protocols: "Maintaining physical distancing by avoiding oversized classes and overcrowded areas – no assemblies, visiting days or large gathering of any kind.
"Proper wearing of facemask at all time within and outside the school by all principals, teachers, parents, students, pupils and others.
The Commissioner again remind the concerned group of persons on the need to strictly adhere to COVID-19 guidelines which involved constant washing and sanitizing of hands.
She added: "Carrying out temperature checks for all those entering schools and periodically within the school and activating and deploying in full all COVID 19 protocols put in place during the first wave of the pandemic (e.g., drop and pick-up points and provision of holding rooms) on resumption."
Salihu assured that the Ministry would continue to ensure the safety of principals, teachers, students and pupils in the state.
In another news, former presidential candidate, Oby Ezekwesili, has blasted President Muhammadu Buhari for asking Nigerians to be fair to him in their criticism on his leadership.