Nigeria's independence did not come easy, the journey to Nigeria's independence was a rough and tough one.  However, some notable Nigerians had to pay a huge sacrifice for the dream of an independent Nigeria to become a reality.
We have compiled a list of seven outstanding individuals who contributed to Nigeria's independence.
1 . Tafawa Balewa (December 1912 – 15 January 1966)
Alhaji Sir Abubakar Tafawa Balewa was the first Prime Minister of Nigeria to gain independence in 1960. Sir Abubakar Balewa was elected Member of the Northern Province Assembly in 1946 and went to the Federal Parliament in 1947. Tafawa Balewa became a strong lawmaker for northern Nigeria. Alhaji Abubakar Tafawa Balewa and Sardaunan Sakkwato formed the Northern People's Congress (NPC).
2 . Sir Ahmadu Bello, Sardaunan Sokoto (June 12, 1910 – January 15, 1966)
Sir Ahmadu Bello was born in the town of Rabbah in Sokoto State in northern Nigeria. Sardauna is one of Nigeria's outstanding leaders. Ahmadu Bello ruled Sardauna Sokoto and led the Northern People's Congress, NPC, dominating the country's politics in the First Republic.
Sir Ahmadu Bello fought for Nigeria's independence, and on his return from a trip to the United Kingdom, he was appointed as a Member of Parliament for Sokoto State. Today there is a picture of Sardauna on a Nigerian currency of ₦ 200.
Sardauna's memories include the Ahmadu Bello University in Zaria, which was named after him and his role in the development of the northern part of the country.
3 . Chief Anthony Enahoro (July 22, 1923 – December 15, 2010)
Chief Anthony Eromosele Enahoro is one of the most outspoken anti-colonial activists and pro-democracy activists. Mr. Enahoro became the Editor of Nnamdi Azikiwe's Southern Nigerian Defender, becoming the youngest editor in Nigeria. Enahoro was the first person to petition for Nigeria's independence in 1953. That is why he is nicknamed the "Father of Nigeria". Chief Enahoro was a scholar and campaigner for Nigeria until his death in 2010.
4 . Herbert Macaulay (November 14, 1864 – May 7, 1946)
His name is Olayinka Herbert Samuel Heelas Badmus. He was a patriot, politician, engineer, architect and journalist and poet. Many Nigerians describe him as a patriotic leader.
Mr Macaulay has made a name for himself in opposition to colonial rule. In 1919, he stood for monarchs whose farms had been confiscated and forced the colonial government to compensate the monarchs.
This angered the British Council which led to his imprisonment twice. Macaulay became famous and on June 24, 1923, he formed the first political party in Nigeria the Nigerian National Democratic Party (NNDP). Herbert Macaulay died in 1946 but is pictured in the old ₦ 1.
5 . Chief Obafemi Awolowo (March 6, 1909 – May 9, 1987)
Chief Obafemi Jeremiah Oyeniyi Awolowo is a patriot and elder who has played a key role in Nigeria's struggle for independence. He is the first prime minister of southwestern Nigeria and has served as finance commissioner in the federal government. Chief Obafemi became vice-president of the executive council during the civil war. Awolowo led the Action Group opposition in the federal parliament. Although he did not win the presidency of Nigeria in the Second Republic, Chief Awolowo became the second most popular candidate after Alhaji Shehu Shagari. Obafemi's picture is on the 100 naira note.
6 . Funmilayo Ransom Kuti (October 25, 1900 – April 13, 1978)
Funmilayo Ransom Kuti is the only woman on the list of Nigerian independence activists. Funmilayo was a schoolteacher, politician, women's rights activist and traditional ruler. She is the mother of Nigerian afro musician Fela Anikulapo Kuti. Funmilayo is the first woman to drive a car in Nigeria. She was elected to the Council of Traditional Rulers, where she was a representative of the Egba community. Her struggles have left her children in a quandary, especially during military rule.
7. Nnamdi Azikwe (16 November 1904 – 11 May 1996)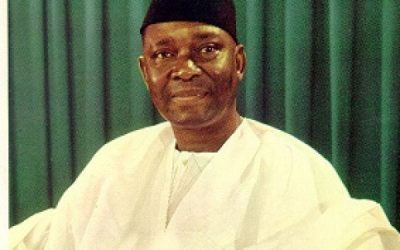 Chief Benjamin Nnamdi Azikiwe is the leader of the modern nationalist movement. Nnamdi nicknamed the patriot holds the position of Editor of the African Morning Post. He is the first Nigerian to be named to the US Consultative Assembly. After declaring Nigeria a republic, Dr Nnamdi Azikwe worked hard to unite the country. Dr Zik becomes Nigeria's first president.