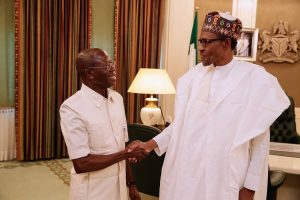 Former National Chairman of the All Progressives Congress (APC), Adams Oshiomhole, has insisted that his relationship with President Muhammadu Buhari remains cordial.
In a statement issued on Saturday, the former Edo State Governor accused some individuals of efforts to misrepresent his views on certain issues.
He recalled how President Buhari worked tirelessly to persuade and campaign to influential leaders and members of the party to support his chairmanship candidature.
Oshiomhole said: "My loyalty to Mr. President is unquestionable."
"Indeed, as I have said before and it bears repeating that I may not have lasted as long as I did in office but for the support of Mr. President who on several occasions resisted pressure on him.
"Unlike some others, I'm not an ingrate. I remain appreciative of Mr. President's commendation of my stewardship as Governor of Edo State, a week to the end of my tenure, where he publicly at two various events in Benin City, including the palace of the Oba of Benin, said that "the APC would need my services in Abuja."
"This commendation understandably triggered mixed feelings – a few saw me as a threat while many others applauded Mr. President's statement," Oshiomhole added.