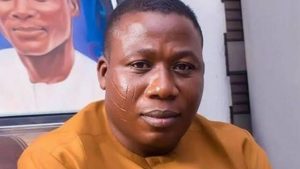 Supporters of Yoruba activist, Sunday Adeyemo, popularly known as Sunday Igboho has raised the sum of £42, 401 (N22.4m) for him.
This is coming after the Governor of Oyo State, Seyi Makinde set up a peace committee to address the rising ethnic conflicts in the state.
Recall that a blogger identified as Maureen Badejo set up a Gofundme page for the purpose of raising £100,000 (N51.8m) for Igboho to buy buses to move him, followers, as they try to chase away criminal herdsmen from the South-West.
Igboho had issued a seven-day ultimatum to herders in the Ibarapa Area of Oyo State, blaming them for kidnapping, killings, destruction of farmland and insecurity in the state.
Governor Makinde on Monday called on anyone to sheathe their swords, adding that it would be wrong to punish an entire ethnic group for the sins of a few.
Makinde said, "A whole tribe, ethnic group, profession or gender must not pay for the sins of one individual. It is totally unacceptable for any individual or individuals to take the law into their own hands. This is jungle justice. Oyo State is not a jungle."
"We know that people are angry. People have the right to be angry."
"When the bridge between power and justice is broken, we are bound to witness unrest. But we cannot solve the problem of peaceful co-existence in anger. I appeal to every resident of Oyo State to sheathe their swords."
"People have been wronged. I acknowledge this. Therefore, we are moving ahead with setting up peace and security committees in every zone of Oyo State starting today."