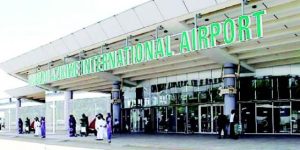 The Nigerian government led by President Muhammadu Buhari has announced the resumption of international flights from August 29, 2020 amid coronavirus in Nigeria.
Naija News reports that the Minister of Aviation, Hadi Sirika made the announcement on the micro-blogging site, Twitter on Monday evening.
"Glad to announce the resumption of international flights from the 29th of August, 2020.
"Beginning with Lagos and Abuja as we did with the domestic flight resumption."
The Minister of Aviation added that all protocols must be observed. "Protocols and procedures will be announced in due course. We thank you for your patience," he added.
Following the government's announcement, Nigerians have taken to the social media platform, Twitter to express their views on the development.
Some are of the opinion that resumption of schools should also be considered by the government even if its going to be on a partial basis.
See some reactions below:
They want to go for check up

— chimezie ajuiwe (@AjuiweChimezie) August 17, 2020
Who else is excited???
pic.twitter.com/5dfdU8ora3
— naijanomads (@naijanomads) August 17, 2020
arset="utf-8″>
You no get international passport, but you dey follow them tweet thank God, international flight will resume 29th of august… Person wey won buy your kidney dey come na

— Your Baby Face Baby (@kingOladele_) August 17, 2020
The federal government of Nigeria has released a date for the resumption of international flights on 29th of August,but not saying anything about resumption of school, sometimes I wonder.

— 𝓐𝓫𝓸𝓴𝓲 𝔀𝓲𝓻𝓮 (@ogochukwuemmy) August 17, 2020
If Local flights are active, markets are open, churches can hold services and now, international flights will resume on 29th of August, then the @NGRPresident should allow schools -higher institutions particularly- resume, at least, in States with low infection/population ratio.

— Feranmi-faith Folahan (@Ferandynasty) August 17, 2020
International Flights to resume on the 29th of August, opening of Schools, Cinemas & other important sectors should be the next step abeg.

— KTF CREATIVES (@bamise_oyesiku) August 17, 2020
This is me from 29th of August… Already thinking of where I'll travel to first
Give ideas please pic.twitter.com/gGySg1bceP

— KIMOPRAH (@_kimoprah) August 17, 2020
When Airport finally opens on 29th of August pic.twitter.com/XU0buOtrx0

— UncommonADE… (@iamcensiny) August 17, 2020</b

Even people that will not smell airport are shouting 29th of August

Incase you're travelling to any other African country by flight, pls that's not international flight oohh….. it's continental flight

— Senator dEKUNLE (@Blaiq_media12) August 17, 2020

lockquote>

International flights resumes on the 29th of August;but everywhere you go it's #COVID19.

— Senator Shehu Sani (@ShehuSani) August 17, 2020

Now that international flights are to resume on the 29th of August, Schools, Cinemas & other recreational centers should be considered next.

— Wale Adetona (@iSlimfit) August 17, 2020

I see people rejoicing cus International flights is set to resume on the 29th of August. But I'm here just waiting for BRT to start putting on the Air condition

— Richard (@meettherichard) August 17, 2020

So international flights can resume on 29th of August and schools can't open abi? They don't value our education.

— JEFFIZY (@iam_jeffizy) August 17, 2020

International flights resuming 29th of August.

But do you have money to travel to Benin Republic?

— Protect Your Peace | Lion King (@iamAtabo) August 17, 2020

Some of you are jubilating that international flights will resume on 29th Of August while others are simply waiting for clubs to open…

— Uduak Udoka (@Uduak_splash) August 17, 2020

International flights resumes on 29th of August, 2020.

You're feeling excited but forgot you don't have a passport and can't pay for ticket bcos you've less than N7, 500 in your account..

Abeg, for the records, Covid-19 is everywhere.. Just Stay Safe

— Danob (@Danobo83) August 17, 2020