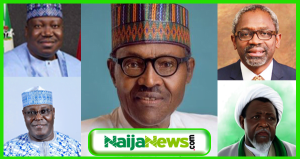 Good morning Nigeria, welcome to Naija News roundup of top newspaper headlines in Nigeria for today Friday, 2nd October 2020
President Muhammadu Buhari on Thursday in his Independence Day message, disclosed reasons for a new price for the pump price of petrol in the country.
The President in his statement said fuel will now be sold at N161 per liter in Nigeria, he added that other nations such as Ghana, Niger, Chad Saudi Arabia, and other oil-producing countries sell petrol on a higher prices than Nigeria.
He condemned the past administration from 1999 to 2015 for criticizing his administration when they took over power.
He further stated that no government in the past did what his administration is doing with such scarce resources.
Buhari said his government has managed to keep things going in spite of the disproportionate spending on security.
He said that the past administrations lack the effrontry to criticise the current administration because they had the opportunity to develop and take the country to a greater height.
Court of Appeal in Abuja, will on Friday rule over the suit filed against the Peoples Democratic Party and Bayelsa State Governor, Douye Diri, over the 2019 election.
Justice Adriza Mshella, who heads the five-man panel, will deliver judgment.
Machukwu Umeh (SAN), on Thursday noted that the court has communicated the October 2 date to all parties.
Recall that the Bayelsa State Governorship Election Petition Tribunal on August 17 annulled Diri's election and ordered a fresh one.
The Independent National Electoral Commission, Diri and the PDP have pleaded that the result of the poll be affirmed.
In the lead appeal, Diri's counsel, Chris Uche (SAN), argued that the case of the first respondent was statute barred as at the time it was filed.
The Peoples Democratic Party, PDP, Thursday, described President Muhammadu Buhari's independence anniversary speech as a slap on the sensibilities of Nigerians, particularly his justification of his administration's increment of the pump price of the Premium Motor Spirit, also known as fuel.
President Buhari had in his broadcast pointed out a number of oil producing countries including Saudi Arabia, Ghana, Egypt and Niger Republic where the price of fuel is higher than in Nigeria, and concluded by saying that "sustaining the level of petroleum prices is no longer possible."
In its reaction, the PDP, in a statement signed by its spokesman, Kola Ologbondiyan called on President Buhari to "wake up to reality and take demonstrable urgent steps that will address the divisive tendencies and poor economic policies of his administration, which are fast decimating our dear nation under his watch."
According to the party, "President Buhari's attempt to justify the increase of fuel price in Nigeria by comparing it to the N168 per litre cost in Saudi Arabia is a morbid joke," adding that "the minimum wage in Saudi Arabia is N305,113 (3000 Saudi Riyals), ten times higher than our paltry N30,000 which is largely unimplemented in Nigeria."
Reno Omokri, a social commentator and former presidential media aide has lamented that nobody should preach Nigerian unity if they don't first preach Nigerian justice.
According to Omokri, the current Nigerian set up is favouring a particular set of people against others within the same country.
He urged that until such issues are fixed, the issue of unity in Nigeria can only be of lip service.
Omokri who took to his Twitter page on the occasion of Nigeria's 60th independence day celebration, wrote: "Nobody should preach Nigerian unity if they don't first preach Nigerian justice. How can we have unity when the heads of the 3 arms of government are Northern Muslim males, and Northerners head defence, army, police, and 90% of the military and security services?"
The Minister of State Labour and Employment, Festus Keyamo, on Thursday noted that Nigeria is beyond the possibility of breaking up.
Keyamo in his post on Twitter maintained that the country's breakup is no longer feasible.
According to the minister, Nigeria's history of inter-tribal marriages and investments makes it difficult for the country to separate.
He stated this in his Independence Day message on his official Twitter account.
He wrote, "For the umpteen time, I say that our separation as a people is no longer feasible. Our long history of criss-cross marriages & investments is 'till death do us part'."
"TOGETHER we will remain and we can pursue our own regional agenda within a united NIGERIA. Happy Independence Day," Keyamo tweeted.
President Muhammadu Buhari on Thursday in his Independence Day message to Nigerians called for a sincere process of national healing as Nigeria marks the 60th anniversary.
Buhari stated this during the independence address, which was broadcast nationwide.
According to the President, the healing is necessary as the nation has consistently focused on "contrived fault-lines" that has been "allowed unnecessarily to fester."
"We need to begin a sincere process of national healing and this anniversary presents a genuine opportunity to eliminate old and outworn perceptions that are always put to test in the lie they always are," the President said.
Governor Rotimi Akeredolu, the governorship candidate of the All Progressives Congress(APC) in the Ondo election, has revealed that his Deputy, Agboola Ajayi, was the highest paid second-in-command in Nigeria.
Speaking at a radio programme in Akure, the state capital, Akeredolu said he ensured Agboola was well paid to make him comfortable.
Akeredolu said his Deputy does not want to be patient, adding that he was ready to forgive all his detractors.
"Agboola (Ajayi) does not want to wait for his time. I made him comfortable. I asked him to represent me in so many places but some people were warning me, I said they should leave him alone," Akeredolu said.
"No deputy governor has collected what he was collecting in the history of the state. I gave him N13million monthly. His predecessors did not collect as much as that. No deputy governor collects as much as that in Nigeria. I gave him enough room to operate yet he betrayed me.
Former President Goodluck Jonathan has told Nigerians not to despair despite the many challenges facing the country and its people.
Jonathan in his 2020 independence day message on the occasion of the 60th anniversary of Nigeria's independence day celebration, said despite the challenges facing the country, there is the need to maintain optimism.
He recalled some of the great moments Nigeria has recorded particularly in sectors such as sports and entertainment, adding that despite the mixed fortunes, the country has a great future ahead.
Jonathan called on Nigerians to use the opportunity of another independence day celebration to emphasize on the issues that unite us as a country and work towards building strong institutions that transcend all forms of differences.
Police operatives of the Lagos State command have arrested no fewer than 20 #RevolutionNow protesters.
The protesters stormed Ojota and Maryland axis to express disgust against what they termed bad governance in Nigeria.
They chanted anti-government songs before security operatives arrested some of the protesters.
The UEFA Champions League, an annual club football competition organised by the Union of European Football Associations on Thursday, October 1 presented awards to the 2019/2020 best performing players and coaches both in the male and female category.
The award event was conducted along with the draw for the 2020 season UEFA Champions League group stages in Geneva, Switzerland, Naija News understands.
See the below full list of the 2019/2020 UEFA Champions League Best Awards:
Best Men's player: Robert Lewandowski – Bayern Munich
Best Women's player: Pernille Harder – Chelsea FC
Best Men's Coach: Hansi Flick – Bayern Munich
Best Women's coach: Jean-Luc Vasseur – Lyon
Best Women's goalkeeper: Sarah Bouhaddi – Lyon
Best Men's Best Goalkeeper: Manuel Neuer – Bayern Munich
Best Men's defender: Joshua Kimmich -Bayern Munich
Best Men's midfielder: Kevin De Bruyne – Manchester City
Best Men's forward: Lewandowski – Bayern Munich
That's the top Nigerian newspaper headlines for today. Read more Nigerian news on Naija News. See you again tomorrow.