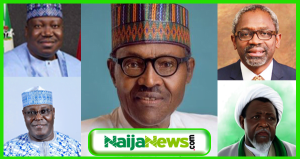 Good morning Nigeria, welcome to Naija News roundup of top newspaper headlines in Nigeria for today Wednesday, 16th September 2020
Nigeria Vice President, Yemi Osinbajo, on Tuesday, attended an Extraordinary Summit of the Economic Community of West African States (ECOWAS) on the crisis situation in Mali.
President Muhammadu Buhari was represented by his Vice at the summit in Accra, Ghana.
Osinbajo in a statement released through his media aide, Laolu Akande, said the Accra meeting forms part of several efforts by leaders in the sub-region to resolve Mali's political crisis.
The Vice president also met with representatives of the Nigerian community in Ghana to discuss issues bothering on their wellbeing.
President Muhammadu Buhari has been called out by Nobel Laurate, Prof Wole Soyinka, pointing out that Nigeria is divided under the current administration than never before.
Sotiny in a statement released on Tuesday said former Olusegun Obasanjo, was right in his statement last week that Nigeria is divided under Buhari.
Soyinka said, "I am notoriously no fan of Olusegun Obasanjo, General, twice former president and co-architect with other past leaders of the crumbling edifice that is still generously called Nigeria. I have no reasons to change my stance on his record."
"Nonetheless, I embrace the responsibility of calling attention to any accurate reading of this nation from whatever source, as a contraption teetering on the very edge of total collapse."
The governorship candidate of the Peoples Democratic Party in Edo State, Godwin Obaseki, has signed the peace accord agreement with other candidates of other parties
Naija news learnt that Pastor Osagie Ize-Iyamu of the All progressive party also signed the peace accord.
The ceremony, which was held in Benin City, the Edo State capital, was organised by the Independent National Electoral Commission (INEC) in conjunction with the Abdulsalami-led National Peace Committee.
Speaking at the event, INEC Chairman, Prof. Mahmood Yakubu, underscored the negative effects of violence on the electoral process.
A top personnel of the Department of State Services (DSS), on Saturday, September 11, 2020, was ambushed and abducted by bandits at his residence in Katsina, just as he returned from Abuja.
The DSS official identified as Sadiq Abdullahi Bindawa who was until his death working with the intelligence department of the DSS Headquarters in Abuja was kidnapped alongside his four-year-old son at his residence behind Federal Secretariat in Katsina metropolis.
The bandits had requested a ransom of N25 million before they could be released to his family.
When Abdullahi Bindawa's colleagues had gathered the ransom to be delivered to the abductors, a cross-fire ensued between them and the bandits.
While many of the bandits were killed in the crossfire, others who escaped back to the hideout shot Abdullahi Bindawa dead and threw his body in the bush.
The Peoples Democratic Party, PDP, has alleged that the Department of State Services (DSS) is intimidating Nigerian citizens from airing their views on issues arising in the country.
The opposition party in a statement released on Tuesday by its National Chairman, Uche Secondus, said President Muhammadu Buhari's led administration has lost focus and direction in its leadership over the continuous invitation of Obadiah Mailafia for interrogations by the Department of State Services (DSS).
"No amount of pressure will deter the people from expressing their feelings under a government that has clearly lost focus and direction," said Secondus while reacting to the repeated invitation of the former Deputy Governor of the Central Bank of Nigeria (CBN).
Naija News recalls that Mailafia had made a controversial revelation the leadership of Boko Haram in Nigeria and the incessant killings in the Southern Kaduna. According to Mailafia in one of his confessions, he and others met with some outlaws who revealed to them that, "one of the northern governors is the commander of Boko Haram in Nigeria. Boko Haram and the bandits are one and the same.
Parents of killed Benue militia leader Terwase Akwaza, also known as Gana, have reacted to the reports given by Major who gave his other name as Aondehemba about their late son Gana.
Speaking on the telephone with The Nation, Mr and Mrs. Kunenge Iornder Akwaza debunked all the statement attributed to Major especially with regards to the reports that Gana derived supernatural powers from his 12 years old daughter that he buried alive 11 years ago in his village in Gbitse
The parents also said they did not support Gana's criminal activities, but supported him when he repented, accepted Christ, and was on his way to be pardoned.
Gana's parents also said his surrender before his killing meant he wanted peace in Sankera area where he ruled.
The father and mother of Gana stated further that they are in support of peace to return to Sankera geo-political zone and pleaded with the federal government especially the military to release the body of their son for a decent burial.
The National Leader of All Progressive Congress, Bola Tinubu, has appealed to Edo State indigenes against voting the incumbent Governor Godwin Obaseki, in the forthcoming gubernatorial election in the state.
He said that the call had become imperative after several undemocratic actions taken by the embattled governor during his first tenure, among which he alleged, his refusal to obey rule of law despite the voice of reasonings from politicians and other stakeholders on the issue of 14 lawmakers he prevented from being sworn into the state House of Assembly.
The APC chieftain added, "He demonstrated the act of dictatorship, lack of respect for rule of law, lack of respect for you the people who voted for those legislators prevented from being sworn-in. Today, he now comes back as a democrat wanting you to vote for him. Please, I appeal to you, reject him.
The consumer price index, (CPI) which measures inflation increased by 13.24% (year-on-year) in august 2020. This 0.40% higher than the rate of 12.82% recorded in july 2020.
According to the National Bureau of Statistics (NBS) via its official twitter handle, the Headline index increased by 0.40 percent in July 2020.
The latest figure is 0.40% points higher than the rate recorded in July 2020 (12.82%).
Food inflation stood at 16% in August 2020, compared to 15.48% in July 2020. This rise in the food index was attributed to increases in prices of Bread and cereals, Potatoes, Yam and other tubers, Meat, Fish, Fruits, Oils and fats and Vegetables.
Core inflation also rose to 10.52% in August 2020, up by 0.42% points when compared with 10.1% recorded in July 2020.
The latest report explicitly means that the purchasing power of Nigeria on product keeps reducing and their capability to get the same quantity of goods keeps reducing.
However, it will be great to note that Inflation in Nigeria has been on the rise since August 2019 when the country shut its land borders with its neighbours to curb smuggling. It later became worse with the effect of the novel coronavirus on the global economy.
President Muhammadu Buhari on Tuesday met with the members of the Presidential Economic Advisory Council (PEAC).
Naija News reports that the virtual meeting was held at the Council Chamber, Presidential Villa, Abuja.
Members of PEAC in virtual attendance are the Chairman, Prof. Doyin Salami: Vice-Chairman, Dr Mohammed Sagagi; Prof. Ode Ojowu; Dr Shehu Yahaya; Dr Iyabo Masha; Prof. Chukwuma Soludo and Mr Bismark Rewane and Dr Mohammed Adaya Salisu.
Physically present at the meeting are the Minister of Finance, Budget and National Planning, Dr. Zainab Ahmed, Central Bank of Nigeria, CBN, Governor, Mr. Godwin Emiefiele, and the Minister of Humanitarian Services and Disaster Management, Sadiya Farouq.
The incumbent governor of Edo State, Godwin Obaseki has blasted former governor of Lagos State, Asiwaju Ahmed Bola Tinubu over his recent statement which said that he (Obaseki) does not deserve a single vote from Edo State citizens in the Saturday's governorship poll.
According to the Obaseki who is contesting for a second term under the Peoples Democratic Party, PDP, the APC chieftain 'cannot extend his political empire to Edo State', adding that the people of Edo have already determined to end the godfatherism in the state.
Obaseki on Tuesday, September 15 through his Special Adviser on Media and Communication Strategy, Mr Crusoe Osagie, faulted Tinubu, noting that when Edo State election come to an end, the people of Lagos State would have realized and found a way to remove the chokehold placed on their collective destinies for decades by the politician.
President Muhammadu Buhari has today justified his government's borrowing to finance infrastructure.
Buhari who spoke at a meeting with members of the Presidential Economic Advisory Council (PEAC) at the State House, in Abuja, explained that his administration take loans to solve the shortage in infrastructure.
According to him, it is pertinent to fix bad roads and construct new ones in the country to save lives from soaring road accidents.
According to him, the failure to provide the infrastructure for effective transportation deprived the country of its well-deserved status as the West African hub for Air cargo transportation and trans-shipment of goods.
Buhari said If not for the borrowings, Nigeria would have been in trouble by now.
He further explained that this is the reason why the importation of food was banned to save jobs and foreign exchange.
Gabon top striker Pierre-Emerick Aubameyang has extended his contract with FA Cup champions Arsenal.
The Gabon international signed from Borussia Dortmund in January 2018 and has since made 111 appearances and scored 72 goals. In his first full season with the Gunners, Auba jointly won the Premier League Golden Boot with 22 goals.
Last season he netted 29 goals in 44 appearances in all competitions, scoring twice in the Heads Up FA Cup final victory against Chelsea. He kicked off this season in similar fashion, scoring against Liverpool in the Community Shield as Arsenal lifted the trophy on penalties.
"Signing for this special club was never in doubt," Auba said. "It's thanks to our fans, my team-mates, my family and everybody at this club that I feel like I belong here. I believe in Arsenal. We can achieve big things together. We have something exciting here and I believe the best is to come for Arsenal."
That's the top Nigerian newspaper headlines for today. Read more Nigerian news on Naija News. See you again tomorrow.