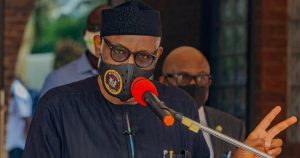 The Chief Judge of Ondo State, Justice Oluwatoyin Akeredolu has dragged Governor Rotimi Akeredolu before a federal high court plans to unseat her.
Naija News reports that Justice Inyang Ekwo has restrained Akeredolu, the state House of Assembly, Attorney-General and three others from taking any further steps in relation to the alleged probe of Justice Akeredolu.
Also restrained are the Attorney-General of the Federation, the National Judicial Council and the Inspector-General of Police.
This online newspaper gathered that reports had emerged that the Ondo government was planning to probe the Chief Judge over allegations made by Olupelumi Fagboyegun in a viral video.
Justice Akeredolu had claimed that the decision by the state government, through its former AG, Charles Titiloye, to refer the allegations made against her and the state's judiciary to the House of Assembly for investigation, was an illegal act designed to remove her from office.
Ruling on an ex-parte application, Justice Ekwo granted all the four principal reliefs contained in the application moved by the plaintiff's lawyer, Jibrin Okutepa (SAN).
He also ordered the service of all originating processes in the suit on the defendants and adjourned the case till March 5, 2021 for hearing of the plaintiff's motion on notice.
"We fear that if there is no intervention of the court, we think it is a ploy to get her out of office. We believe it has political undertone," Okutepa said.