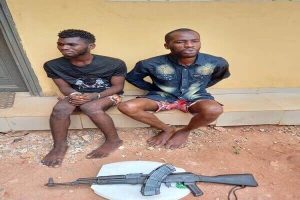 One Samson Ibiweh and his accomplice Philip Chirer have been arrested while attempting to blow up a petrol pipeline in Edo State.
Naija News understands that the two young men were apprehended by men of the anti-kidnapping and cybercrime unit of the state police command.
Confirming the report to reporters, crime correspondent, Festus Alenkhe revealed that the two had been on the list of most wanted notorious criminals in the state.
Alenkhe disclosed that they were nabbed along Ofunama Road in Ovia South-West local government area of the state while they were heading to Ofunama forest to blow up the Petroleum Pipelines so they can siphon the products for sale. He revealed further that the suspects snatched an AK49 military rifle with ammunition from military personnel operating in Nigeria's Niger Delta region.
"One of the suspects Samson Ibiweh belonged to a gang that earlier kidnapped a prominent Oil worker along Siluko Road in Benin city, EDO State. The operation which took place in 2016 claimed the life of the driver of the oil worker," Alenkhe said.
It was also alleged that the suspect sponsored an armed robbery syndicate that attacked and robbed the Etisalat sales outlet at Ibiwe Street in Benin City.
Many citizens were reported to have sustained severe injuries from the incident where the criminals carted away millions of naira. Naija News learnt that some of the suspects were arrested and arraigned in court in 2016.
The suspects, who were driving in an Audi 80 car were intercepted and searched, recovering a military rifle and live ammunition. In an interview, one of the suspects Samson Ibiweh told Standard Gazette that:
"I was holding the gun to protect ourselves against security invasion when we are blowing up the pipeline. I was earlier arrested by the police for armed robbery and charged to court. However, the complainant did not come to court to give evidence; hence the court released me. l was going for this operation because l need money to offset some bills."
The suspects would be arraigned in court after the completion of the investigation, Naija News understands.
Meanwhile, one Abu Adams, 26, has been arraigned before an Ikeja Chief Magistrate Court for allegedly doing away with high-end phones worth about twelve million naira, Naija News reports.