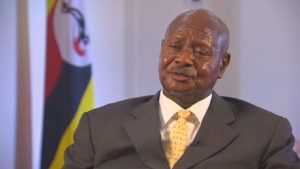 Human rights organization, United Nations Watch, on Monday in its congratulatory message accused the President of Uganda, Yoweri Museveni of silencing his opponents for his sixth term in office.
Recall that the electoral commission on Saturday announced that Museveni won the election with 58.6 percent of the vote, while his opponent, Bobi Wine, polled 34.8 percent.
The UN Watch in its reaction to the development took to it's Twitter account to accused the Uganda President of committing "widespread voter fraud".
President Museveni was also accused of murder and condemned for shutting down the country's internet.
The post read, "Congratulations to Uganda President Yoweri Museveni on winning re-election after murdering, imprisoning and silencing opponents, shutting down the Internet, and committing widespread voter fraud." 
Congratulations to Uganda President Yoweri Museveni on winning re-election after murdering, imprisoning & silencing opponents, shutting down the internet, and committing widespread voter fraud.

— UN Watch (@UNWatch) January 17, 2021