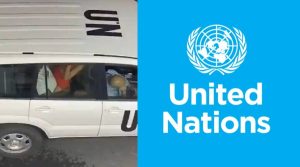 The United Nations has expressed shock at the viral video of a couple having sex in one of the organization's official cars.
The UN which said it has already launched an official investigation into the incident to confirm the authenticity of the video, however, said it was shocked and deeply disturbed by the video.
Spokesman of the Secretary-General, Mr. Stephane Dujarric, told UN correspondents in New York on Friday that the video featured personnel "likely assigned to the UN Truce Supervision Organisation".
The footage showed a woman in a red dress straddling a man in the back seat of the white 4 by 4 SUV bearing the "UN" inscription. The driver and a bald-head man sitting on the passenger side in front were also sighted.
According to media reports, the incident was recorded on HaYarkon Street, a major thoroughfare in Tel Aviv, the capital city of the Israeli nation.
Dujarric said, "We are shocked and deeply disturbed by what is seen on the video.
"The behaviour seen in it is abhorrent and goes against everything that we stand for and have been working to achieve in terms of fighting misconduct by UN staff.