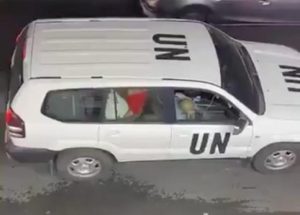 Two United Nations staff caught on camera having sex have been placed on an indefinite suspension.
Naija News recalls that some days ago a woman in a red dress was seen straddling a man in the back seat of clearly marked white UN vehicle.
Speaking on the embarrassing act by two of its staff via a press release Stéphane Dujarric, the spokesman for the UN's secretary-general said the two staff members have been suspended without pay until the investigation into the incident is concluded.
Dujarric revealed that the United Nations maintains strict regulations barring sexual misconduct by staffers and has come under fire for violations in recent years.
Naija News recalls that a report by the UN confirmed 175 allegations of sexual exploitation and abuse by staffers in 2019. Sixteen claims were substantiated, fifteen were found to be unsubstantiated, and the rest are still investigated.