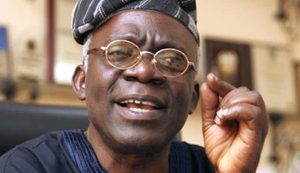 Human rights lawyer, Femi Falana (SAN) has condemned the decision of the Attorney-General of the Federation, Abubakar Malami (SAN), to remove the names of soldiers that were accused of killing three policemen to free a kidnap kingpin in Taraba State, Bala Hamisu, popularly called Wadume, from the case before the court.
Falana on Sunday faulted the report that the soldiers involved in the incident must first be tried at military court before they could be prosecuted in the civil courts.
The Human rights lawyer in its statement noted that the General Court Martial lacked jurisdiction to entertain the case of terrorism, which the 10 soldiers were accused of committing against the slain policemen.
He added that by virtue of Section 287(3) of the Nigerian Constitution, Malami was duty-bound to enforce the "valid and subsisting order" issued by the Federal High Court in Abuja on March 16, 2020, compelling the Chief of Army Staff, Tukur Buratai, to produce the 10 indicted soldiers for trial.
The Attorney-General has been called out by many Nigerians for removing the names of the ten soldiers led by Captain Tijjani Balarabe from the case before the court.
Recall that the Inspector-General of Police, Adamu Mohammed, in February charged the kidnap kingpin, including the 10 soldiers, with various offences, including terrorism, kidnap, gun-running.
Malami, however, removed the names of the soldiers as defendants after taking over the case from the police in June.
The AGF while speaking on the case on July 1, told State House correspondents at the Presidential Villa, Abuja, that there was no plan to shield the soldiers from prosecution.
Malami said the soldiers "are to go through the in-house processes" by either facing "the court-martial, which is a special court established by law" or "in the alternative for the military after consummation of the in-house processes, should consider handing them over for trial."
Reacting to the AGF's claim, Falana said: "The offence of terrorism allegedly committed by the indicted soldiers is not provided for in the Armed Forces Act."
He added, "For the avoidance of doubt, Section 32 of the Terrorism Prevention Act 2011 as amended by the Terrorism Prevention Amendment Act 2013 provides that 'The Federal High Court located in any part of Nigeria, regardless of the location where the offence is committed, shall have jurisdiction to (a) try offences under this Act or any other related enactment; (b) hear and determine proceedings arising under this Act'."
Falana maintained that the indicted soldiers were properly charged with terrorism along with other suspects at the Federal High Court, "the only competent court in the land."
He stated, "Even though the Attorney-General withdrew the charges against the indicted soldiers, the order that they are produced in court for arraignment has not been vacated or quashed either by the trial court or the Court of Appeal."
"Therefore, the Attorney-General is duty-bound to ensure full and unconditional compliance with the valid and subsisting order of the Federal High Court in accordance with Section 287 (3) of the Constitution."