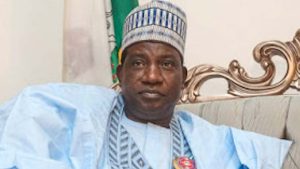 The Governor of Plateau State, Simon Lalong, has been called out by farmers in the state for accusing them of carrying AK-47 weapons like Fulani herdsmen.
Recall that Lalong while speaking on Channels TV on Tuesday said farmers also carry arms like Fulani herdsmen, hence the need to crucify both parties for bearing AK-47.
The Governor had said, "I'm not justifying anybody to carry AK-47, but don't forget that in the course of our deliberations and investigations, it was not only Fulani herdsmen that were carrying AK-47, but even farmers were also carrying AK-47."
However, the Chairman of the Plateau State chapter of All Farmers Association of Nigeria (AFAN), John Wuyep, described the comment of the state Governor as untrue.
The chairman said, "In as much as people have the right to defend themselves, no farmer, to the best of my knowledge, was arrested for carrying arms and ammunition not to talk of AK- 47″
"Farmers in the state are law-abiding; they go about their business peacefully and farmers association the state has received no case of any farmer caught with AK 47 or any weapon."
Meanwhile, Governor Lalong noted that the clash between farmers and herders escalated due to the non-implementation of the National Livestock Transformation Plan (NLTP).
He called on state governments to implement the plan in order to curb the incessant crisis across the nation.
The governor stressed that if the plan had been well implemented, the country would not be witnessing the current farmer-herder crisis facing it.