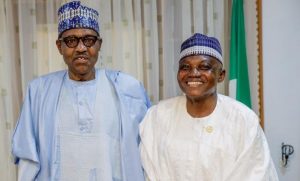 The Presidency on Monday submitted that it is not compulsory for President Muhammadu Buhari to personally speak on every matter.
The Senior Special Assistant to the President on Media and Publicity, Garba Shehu who made this position known on Monday, said Buhari believes in action more than words.
He added that whenever he or the special adviser to the President on media and publicity, Femi Adesina speaks on behalf of the President, then Buhari has spoken to Nigerians on the issue and citizens should learn to accept that fact.
Shehu spoke during the Channels Television's 'Sunrise Daily' programme monitored by Naija News.
According to him, people should not personalize issues on the President's body language while expecting him to personally address the nation on the activities of criminal herdsmen causing crisis in many parts of the country.
In his words, "When Femi Adesina or myself speaks for the president, people should accept that it is the president that is speaking. For this president, it is the actions that should speak for him; he (Buhari) is not a showman, he doesn't have to be there."
"People should not personalise the issue. This country has problems, it requires the involvement of everyone, all hands must be on the deck to solve these problems –community leaders have a role, senators have a role, everyone has a role."
The Presidential media aide added that all hands must be on deck to fight all forms of criminality and insurgency in the country while the security agents should be supported to do their job.
"We need to be appreciative of the enormous risks that our security people are facing, they are making it possible for you and I to sleep well because they are exposing themselves on the frontline.
"So, for everybody to say there is no political will, is anybody complaining? Is the IG of police saying he is unable to do his job because he doesn't have political support? This president allows you to do your job," he declared.
Meanwhile, former Ekiti State Governor, Ayodele Fayose has declared that it is wrong for Oyo State Governor, Seyi Makinde to be parading himself as his leader.
According to Fayose, he would always accord Makinde the honour bestowed upon him as a sitting governor but despite this, he remains a father figure to Makinde.
Fayose who spoke on Sunday during his appearance on Channels TV, Sunday Politics however noted that he is not in a leadership tussle with Makinde for the position of the leader in the Southwest Peoples Democratic Party (PDP).
In his words: "I am not in a tussle of leadership with Governor Makinde, but he can't come out and say he is my leader, he is not my leader, No he is not. The fact that my son is the governor and I had to get up when he comes to a function does not mean he is my leader.
"The gentleman is a governor and I must respect his office. Governor Makinde by all standard is the only governor in the Southwest, all South South leaders are PDP governors. Who is the leader of the governors? Because he is the only one we have, I used to be like that and I never said to anyone, I am the leader of the west.