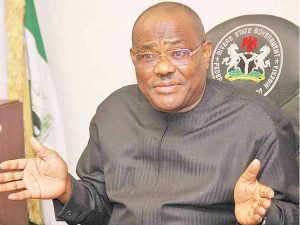 The Commissioner for Information and Communications in Rivers State, Paulinus Nsirim, has revealed why President Muhammadu Buhari approved the refund of N78.9bn to the state government,
Nsirim in his statement noted that the President refunded the sum of N78.9bn to the Rivers State Government for the repair of federal roads because of the Governor Nyesom Wike's "courage to speak up when others are silent".
The Commissioner stated this while reacting to the article written by the President's Special Adviser on Media and Publicity, Femi Adesina, entitled, 'Wike Vindicates Buharists'.
Recall that the Rivers State Governor appreciated the President for approving the refund of N78.9bn to the state government.
Femi Adeshina in his statement described the governor's appreciation as one that was in a "completely different direction compared to what he had always said of President Muhammadu Buhari", adding that "The Wike we knew was either usually crying wolf where there was none, alleging that the Federal Government wanted to kill him, or claiming that he was not answerable to the central government at Abuja in any way, or even pontificating that the President and his political party, the All Progressives Congress, had failed the country in diverse ways."
Adeshina further stated that President Buhari had chosen not to deal with Wike and the former Governor of Ekiti State, Ayodele Fayose, for statement against the President.
Nsirim while reacting to the statement of the President's spokesperson, on Sunday entitled, 'Wike That I know', said, "what Femi Adesina describes as 'crying wolf' and 'pontificating' is nothing more than the ability to say and do things which other people are too frightened or lily-livered to say or do."
The Commissioner further stated that the refund was not a gift or a favour as Adesina painted it to look like in his piece.
He said, "If Governor Wike's courage to speak up when others are silent and cowering in fear, leads to the approval of the refund of the N78.9 billion which the Federal Government owes Rivers State, then the expression of gratitude that recognises and appreciates such appropriate magnanimity is the highest form of nobility."
"The money is neither a generous loan gift nor a desperate bailout package as people like Femi Adesina is shaping the narrative to sound, but a refund of monies already spent by Rivers State on federal projects."
The commissioner added, "While Rivers people will not complain that the money was actually reduced from the original amount and that it even took so long for President Buhari's fairness and justice to touch Rivers State, while he has been fair and just to other states, we are all still very happy and grateful that this approval for refund has been made, finally."
"Attempts by people like Adesina to make political capital out of the genuine stance of a statesman will not be bought by well-meaning Nigerians."