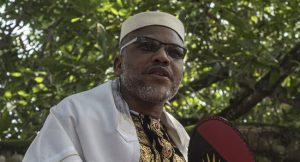 The leader of the proscribed Indigenous People of Biafra, Nnamdi Kanu, has advised every Nigerian to get an Ak-47 rifle in order to protect themselves.
Recall that the Governor of Bauchi state, Bala Mohammed, had said that Fulani Herdsmen have to carry Ak-47 rifles for protection against cattle rustlers and bandits.
He had said "The west doesn't want to accommodate other tribes but we are accommodating your tribe in Bauchi. We have Yorubas who have stayed in Bauchi for over150 years, some of them have being made permanent secretaries in Gombe, Bauchi and Borno but because the Fulani man is practicing the tradition of transhumans, pastoralism, he has been exposed to cattle rustlers who carry a gun, kill him and take away his cows he has no option to carry AK 47 because the government and the society are not protecting him. It's the fault of the government.
However, several criticisms have trailed the comment made by Mohammed after he justified why herdsmen carry AK-47 rifles, condemning the quit noticed issued to them by some states in Southern Nigeria.
Reacting to comments made by the Bauchi governor in a statement via Twitter on Saturday, Kanu asked Nigerians not to condemn Mohammed but embark on purchasing arms.
Kanu wrote; "Dear indigenous Nigerians: Instead of faulting Fulani Gov of Bauchi for justifying AK47 assault riffles for herdsmen, you should urgently embark on the business of getting one for yourself."
"For how long will this trumpet of war sound before you beat your plowshares into weapons."