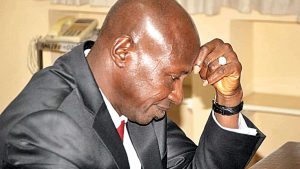 Magu's Suspension: Under Buhari's Watch No Body Is Above The Law – Presidential Panel
The Suspension of the Acting Chairman of the Economic and Financial Crimes Commission (EFCC), Ibrahim Magu has attracted several reactions from many Nigerians after a presidential panel found him guilty of corruption.
However, a source who is familiar with the activities of the Presidential investigative panel, says the decision to suspend Magu is in line with international practice in such matters. Speaking further the source said it is wrong to allow Magu to continue as the head of an establishment or organisation which is he is being probed for
, It is commonsensical that when an investigation of this nature is ongoing, you don't allow the person being investigated to keep the keys of the office for which he is being investigated."This is because if he keeps the keys, there can be a kind of tampering with documents or evidence.
The source also noted the ongoing investigation of Magu had come out to prove that no public servant, no matter how highly placed, is above scrutiny, especially when there are allegations as weighty as those levelled against the embattled anti-corruption Czar.
"Under the Muhammadu Buhari administration, nobody is above scrutiny. Repeat: nobody. "The investigation is to reinforce transparency and accountability, rather than to vitiate it.The Buhari administration can be counted on to uphold fairness and justice at all times," the source said