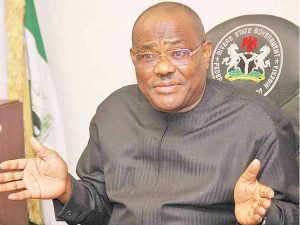 Governor Nyesom Wike is not disturbed by the defection of 'his friends' to the All Progressives Congress (APC), the Peoples Democratic Party in Rivers State have claimed.
Recall that the spokesman for the Rotimi Amaechi-led faction of the APC, Ogbonna Nwuke, had in a statement rated the Amaechi-led administration in the state higher than the Wike government.
This was following a face-off between the aides of the two prominent Rivers sons at the burial of a former Justice of the Supreme Court, Adolphus Karibi-Whyte.
Speaking to The Punch on Thursday, State Publicity Secretary of the PDP, Sydney Tambari, said it was rather the APC that was disturbed because more of its members were joining the PDP.
"I want to state it clearly here that the executive governor of Rivers State, Chief Nyesom Wike and the entire PDP are not bothered about those leaving the party for the APC because we see defection as a normal scenario in Nigerian politics," he said.
"It is on record that there are those who are equally leaving the APC to PDP. In fact, we have seen far more defections from the APC and other parties in the state to the PDP.
"The reason why the PDP is not bothered is because we have strongholds in all the local governments. In some of those LGAs that we have witnessed few defections, we still have our grip, we still have our members and PDP is still controlling those LGAs.
"So, it is not something the party or the governor of the state will lose sleep about one man leaving the PDP, unlike the APC that has been crying ever since Hon. Chidi Lloyd dumped the APC for PDP."