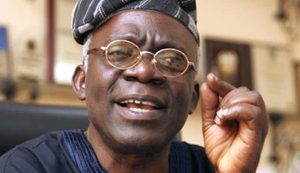 A human rights lawyer, Femi Falana, on Friday, noted that the Federal Government cannot arrest Yoruba activist, Sunday Igboho, without picking up Islamic cleric, Ahmad Gumi, who has been meeting with bandits and others who have issues quit notices to southerners in the past.
Falana during an interview with Punch noted that Gumi, last week told bandits that Christian soldiers were the ones killing them.
According to him, rather than focus on Igboho, the government must ensure that justice was applied equitably.
The senior advocate said, "Sunday Igboho should not be arrested because those who had issued quit notices in the past were not arrested. Someone like Gumi, who is causing religious division in the military, has not been arrested. Unless they are ready to adopt the same standard, you cannot arrest Igboho."
"Those who gave quit notices in the past were never arrested. In any case, the DSS has denied trying to arrest him. However, you cannot arrest him."
Falana in his statement agreed with the Presidency in its call to state governments to stop giving cash and vehicles to bandits as part of the amnesty, which he said was encouraging the banditry.
He added, "The government must acquire equipment to track the bandits and release those in their custody."
Meanwhile, Yoruba activist, Sunday Adeyemo, popularly known as Sunday Igboho, on Friday said the attempt by the security agents to arrest him on Friday would not stop him from fighting for the rights of his people.
Igboho's spokesman, Oladapo Salami, in an interview with Punch, noted that the activist saw the attempted arrest as a means to suppress him, but he would not be moved by the development.