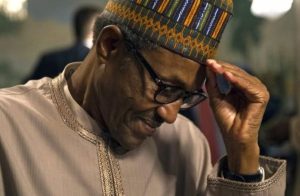 A strong warning has gone out to President Muhammadu Buhari and the ruling All Progressives Congress (APC) stating an event that will rewrite Nigeria's history will soon occur.
The warning contained in a statement by the Senior Pastor of Awaiting The Second Coming Of Christ Ministry, Adewale Giwa noted that God is bringing about the event because Buhari and APC have failed Nigerians.
The cleric berated the Buhari administration for failing to fulfill its campaign promises to Nigerians but only implementing policies that are against the people.
Pastor Giwa made the declarations on Sunday while addressing members of his congregation during their church service.
He lamented that those who should speak up for the people against the tyranny of the current administration are afraid to speak because of what they are getting from the government.
The pastor added that those who expect anything good from this government are only deceiving themselves, adding that he always knew nothing good could come out of this government whose specialty is in blaming others for its failures.
Giwa stated: "You are a fool, if you still think the APC government has something tangible for you. Work very hard to take care of your families because only God knows what will happen next.
"I knew President Buhari would perform woefully when he wasted two years to blame his predecessors.
"He criticised the previous governments as if he was not part of the system that brought calamity upon Nigerians.
"You know what? In history, I have never seen a heartless government like the APC. They do nothing for the poor than to oppress them with security operatives.
"President Buhari and leaders of the APC are mendacious politicians who got into power to suppress the will of the people.
"Many of you saw what they did to protesters in Lagos on Saturday. Their days are numbered, and nothing can stop God from rising against the oppressors.
"Nobody would believe that Nigeria is blessed with the number of Police personnel deployed to Lekki while criminal herdsmen continue to kill innocent Nigerians without bringing them to justice.
"Even some of the religious and political leaders who sold President Buhari to us knew he could not control his constituency let alone leading a nation.
"Do they talk now, I mean those who created this mess? They cannot, because of what they get from the government.
"The events that will rewrite the history of this country will happen in no time. The Lord shall see Nigerians through. May His peace reign forever and ever."
Meanwhile, the Minority leader in the 9th Senate, Senator Enyinnaya Abaribe, on Monday, condemned President Muhammadu Buhari for his approach towards the herdsmen crisis across the country.
The lawmaker while speaking on Channels TV, noted that the reaction of Buhari seems to have increased the activities of criminal herdsmen.