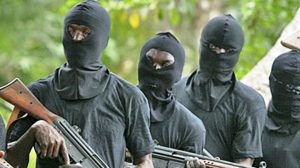 The environs of Danfasa village, Dansadau Emirate of the Maru Local Government Area of Zamfara State has been thrown in mourning after bandits killed seven people and kidnapped 20 women in the area.
The bandits' attack saw many houses in the area set on fire, while several animals were rustled by the hoodlums.
One of the villagers identified as Adamu Danfasa, while speaking with Punch, noted that the bandits entered the village on motorcycles around 4 pm on Monday and opened fire on the residents which led to the death of seven people and 13 others injured.
Adamu who revealed that he escaped into the bush during the incident noted that the bandits after the attack kidnapped 20 women, stole several animals and food items before setting the village on fire.
"They were in the village from 4 pm yesterday (Monday) and did not leave until pm because there was no pressure from the security agents due to the bad nature of the road," Adamu said.
He further stated that the villagers tried their best to defend themselves, but were overpowered by the bandits, who had sophisticated guns.
Adamu added that the incident saw the villagers run into the bush, while many others ran in the nearby Mairairai village.
The spokesperson of the police command in the state, Mohammed Shehu, when contact noted that he was waiting for the commissioner of police, who was attending a meeting with Governor Bello Matawalle.