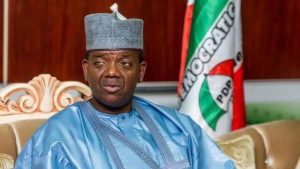 Muhammed Sani, popularly known as Zakwi, has surrendered no fewer than 30 AK-47 rifles, 2 GPRP rifles, rocket launchers and a large cache of ammunition in Zamfara State.
Governor Bello Matawalle received Sani, who is the son of a murdered notorious bandit leader Buharin Daji, at the State Government House on Thursday.
Speaking during the ceremony, Matawalle said he was very optimistic that banditry would soon end in the state, considering the way bandits were trooping in to surrender their weapons.
Zakwi swore with the Holy Qur'an that, henceforth, he would never return to his past life.
"I swear in the name of the Almighty Allah, I will never either kill, kidnap or disturb the peace of innocent citizens of Zamfara State and even beyond again. I also pray God to guide me to live a peaceful life.
" A large number of bandits that are still living in the forests are willing to embrace the government peace accord and reconciliation process as we were all made to understand that, the present administration of Governor Matawalle does not mean to trap and harm us, but rather meant to restore peace and tranquility in the state," he added.