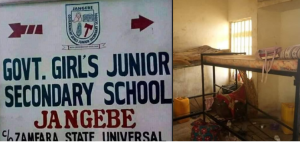 Maryam Sani, a junior secondary school student, of the Government Girls School, Jangebe in Talata-Mafara LGA of Zamfara has revealed how she escaped abduction.
Speaking to TheCable on Saturday through a translator, Maryam, who is in JSS3, said the gunmen threatened to kill whoever tried to run.
"She said when these kidnappers arrived, she just started shouting and ran away from her hostel," the translator said.
"After she ran, the bandits went to another room while she and her other colleagues hid in a single room. When she got to the room, she knocked on the door and they asked 'who are you?' and she said 'I'm the one, Maryam'. And they said 'are you sure you're Maryam?' and she said 'yes'. And they opened the door and she entered. They were five in number in that single room and they hid themselves. 
"According to what she said, the bandits were shouting that they were going to kill whoever runs away. During the operation, another member called them on their phone. The person said, 'have you started the work?' and someone said 'yes let me show you'. So they took their phone and started filming.
"She escaped because she met her colleagues in that small room. The bandits didn't see that small room."